Distribution of bogus PhD degrees in Delhi's Maharashtra Sadan too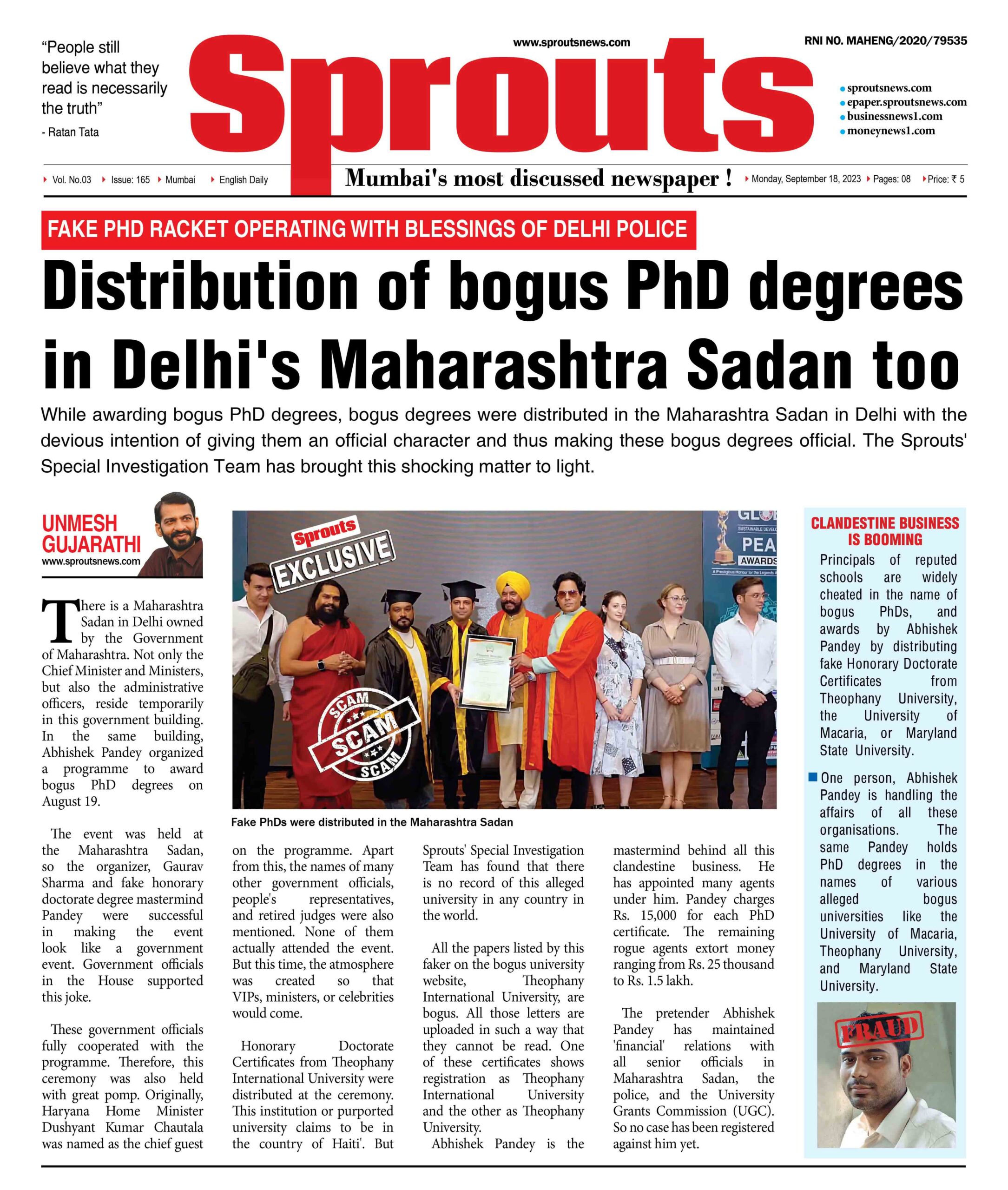 Unmesh Gujarathi
Sprouts Exclusive
While awarding bogus PhD degrees, bogus degrees were distributed in the Maharashtra Sadan in Delhi with the devious intention of giving them an official character and thus making these bogus degrees official. The Sprouts' Special Investigation Team has brought this shocking matter to light.
There is a Maharashtra Sadan in Delhi owned by the Government of Maharashtra. Not only the Chief Minister and Ministers, but also the administrative officers, reside temporarily in this government building. In the same building, Abhishek Pandey organized a programme to award bogus PhD degrees on August 19.
The event was held at the Maharashtra Sadan, so the organizer, Gaurav Sharma and fake honorary doctorate degree mastermind Pandey were successful in making the event look like a government event. Government officials in the House supported this joke.
These government officials fully cooperated with the programme. Therefore, this ceremony was also held with great pomp. Originally, Haryana Home Minister Dushyant Kumar Chautala was named as the chief guest on the programme. Apart from this, the names of many other government officials, people's representatives, and retired judges were also mentioned. None of them actually attended the event. But this time, the atmosphere was created so that VIPs, ministers, or celebrities would come.
Honorary Doctorate Certificates from Theophany International University were distributed at the ceremony. This institution or purported university claims to be in the country of Haiti'. But Sprouts' Special Investigation Team has found that there is no record of this alleged university in any country in the world.
Principals of reputed schools are widely cheated in the name of bogus PhDs, and awards by Abhishek Pandey by distributing fake Honorary Doctorate Certificates from Theophany University, the University of Macaria, or Maryland State University. One person, Abhishek Pandey is handling the affairs of all these organisations. The same Pandey holds PhD degrees in the names of various alleged bogus universities like the University of Macaria, Theophany University, and Maryland State University.
All the papers listed by this faker on the bogus university website, Theophany International University, are bogus. All those letters are uploaded in such a way that they cannot be read. One of these certificates shows registration as Theophany International University and the other as Theophany University.
Abhishek Pandey is the mastermind behind all this clandestine business. He has appointed many agents under him. Pandey charges Rs 15,000 for each PhD certificate. The remaining rogue agents extort money ranging from Rs. 25 thousand to Rs. 1.5 lakh.
The pretender Abhishek Pandey has maintained 'financial' relations with all senior officials in Maharashtra Sadan, the police, and the University Grants Commission (UGC). So no case has been registered against him yet.
A list of fake universities awarding bogus Ph.D. degrees has been given here for the information of our valuable readers:
► The Open International University of Complementary Medicine, Sri Lanka
► University of America Hawaii and Inox International University
► World Mystic Science Institute (OPC) Private Limited
► University of South, America,
► Southwestern American University
► The American University, USA,
► Zoroastrian University,
► Mahatma Gandhi Global Peace Foundation (NGO)
► Empower Social and Education Trust (NGO)
► Nelson Mandela Nobel Award Academy (NGO)
► Diplomatic Mission Global Peace (NGO)
► Vinayaka Missions Singhania.
► American Heritage University of Southern California (AHUSC)
► Peace University
► Dadasaheb Phalke Icon Awards Films: NGO
► World Human Protection Commission- NGO
► Trinity World University, UK
► St. Mother Teresa University
► University of Macaria
► American University of Global Peace
► Jeeva Theological Open University
► World Peace Institute of United Nations
► Global Human Peace University
► Bharat Virtual University for Peace and Education
► National Global Peace University
► Ballsbridge University
► Shri Dadasaheb Phalke International Award Film Foundation (NGO)
► International Open University of Humanity Health, Science and Peace, USA
► Harshal University
► International Internship University
► British National University of Queen Mary.
► Jordan River University
► Boston Imperial University
► The University of Macaria
► Theophany University
► Dayspring Christian University
► South Western American University
► Global Triumph Virtual University
► Vikramsheela Hindi Vidyapeeth
► Jnana Deepa University (Pune)
► Oxfaa University
► Mount Elbert Central University
► McSTEM Eduversity, USA
► Maa Bhuvaneshwari International University
► The Institute of Entrepreneurship and Management Studies (IEMS)
► Ecole Superieure Robert de Sorbon
► Central Christian University
गिरणी कामगारांच्या घरांचा होतोय काळाबाजार   उन्मेष गुजराथी  स्प्राऊट्स Exclusive  मुंबईमध्ये गिरणी कामगारांसाठी आरक्षित असणाऱ्या घरांच्या वाटपामध्ये मोठ्या प्रमाणात काळा बाजार होत आहे. हा काळा बाजार करणाऱ्या काही टोळ्या आहेत. या टोळ्यांतील लुटारूंनी 'गिरणी...