Shinde Govt squanders 42 crores on ads in 7 months
One lakh rupees per hour of public hard-earned income paid in taxes
Unmesh Gujarathi
Sprouts Exclusive
The Eknath Shinde government in Maharashtra has followed in the footsteps of Prime Minister Narendra Modi.   This shocking information has been received by "Sprouts" that the Shinde government has spent 42 crores and 44 lakh rupees in the last 7 months since coming to power, which is 1 lakh per hour of public hard-earned income paid in taxes.
A few months ago, the Bharatiya Janata Party (BJP) led Central leadership engineered a Shiv Sena split and installed a new government in Maharashtra with Eknath Shinde as the surprise choice for chief minister. Even their blue-eyed former chief minister of Maharashtra, Devendra Fadanavis, was shell shocked by this. From then until now, the Maharashtra government has spent a record amount on advertisements just to stay in the limelight.
Shinde has made a lot of advertisements for small government activities as well. Right-to-Information (RTI) activist Nitin Yadav sought information in this regard. Accordingly, the information and public relations department of the government gave this data to Yadav.
Shinde has done the feat of squandering this money from public tax. Even during the previous government tenure of Uddhav Thackeray and Devendra Fadnavis, there was never a such extravagance. But Shinde is constantly after cheap publicity.
The Central Government took the initiative to create "Har Ghar Tiranga." It was necessary for the Shinde government to maintain the favor of Delhiites in this initiative. As much as 10 crores, 61 lakhs, and 568 rupees were spent on this activity.
It is also mentioned that 86 lakhs (about 70 thousand and 344 rupees) were spent on the advertisement of the "Booster Dose" initiative. In comparison, 4 crores, 72 lakhs, 58 thousand, and 148 rupees were spent on the advertisement of "Rashtraneta to Rashtrapita Seva" for a fortnight.
The Shinde government is at the forefront of appeasing journalists
Eknath Shinde, the chief minister, misses no chance to appease the media. One such occasion for gift-giving is Diwali. Shinde gave journalists covering the Legislature and Ministry a 10-gram gold coin (roughly Rs 52,000) each, while journalists covering the Thane press in general received a digital watch.
Each editor and general manager received an Apple iPhone 14 Pro Max (256 GB), valued at 1.5 lakh rupees. However, there was also corruption in that. According to trustworthy sources, many journalists are upset with Shinde because, despite their names appearing on the list, they have not yet received this Diwali gift.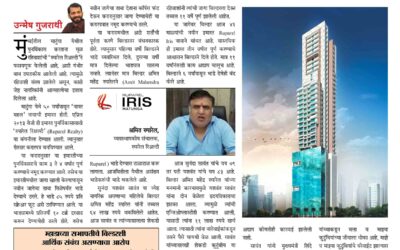 शेकडो भाडेकरूंचे रखडवले कोट्यवधी रुपये ज्येष्ठ नागरिकांचा आत्महत्येचा इशारा उन्मेष गुजराथी स्प्राऊट्स Exclusive मुंबईतील माटुंगा येथील पुनर्विकास करताना मूळ रहिवाशांची 'रुपारेल रिअल्टी'ने फसवणूक केलेली आहे, अशी गंभीर बाब उघडकीस आलेली आहे. त्यामुळे रहिवाशी संतप्त...