Shell companies of Navabharat on ED's radar
Shell companies of Navabharat on ED's radar
Companies formed for tax evasion
Unmesh Gujarathi
Sprouts Exclusive
Close on the heels of our Sprouts Investigation Team (SIT) breaking the news about land scams and housing irregularities taking place in daily Hindi newspaper Navabharat, the latest that came to light is that the mother firm has used near about 10 shell companies for the purpose of tax evasion.
The SIT has learnt that the only purpose of the existence of these shell companies was to siphon the profits accruing from the mother company Navabharat in order to understate the profits and evade taxes to the tune of crores of rupees on an annual basis.
The SIT was further informed that these shell companies existed only on paper and they had no real existence. The matter has been brought to the notice of the Enforcement Directorate (ED) recently. The ED has started probing the matter and it's likely that these properties get sealed in a short while.
The earlier scandals unearthed on Daily Navabharat include land allotted for housing its journalist staff by CIDCO being diverted for profit-making by a private owner. The land was allotted in Sanpada (east), in Navi Mumbai, a satellite township of the country's financial hub. As the probe into the misdeeds of the newspaper thickens, more and more skeletons are likely to tumble out of its cupboard.
Companies uncovered by SIT of 'Sprouts':
Navabharat Press Ltd., Saffon Industries Ltd., Navabharat Press Nagpur (Firm), Navabharat Press Pvt. Ltd. (Nagpur), Navabharat Real Estate Pvt. Ltd., Navabharat Infraventures Ltd., Madhya Pradesh Publication Pvt. Ltd., Madhya Pradesh Press Pvt. Ltd., Navabharat News Media Ltd., Binoba Paper Craft Ltd., Navabharat Media Network (Firm), Navabharat Outdoor (Firm), Navabharat Solutions (Firm), Navabharat Publications (Firm), Navabharat Press Circulation (Firm) include some of the shell companies. The Thane Labour Court has asked to submit the balance sheets of these companies, which the management has not submitted yet.
The directors of these companies include Vinod Ram Gopal Maheshwari, Sriranga Vinod Maheshwari, Nimish Vinod Maheshwari, Anupama Nimish Maheshwari, Vaibhav Nimish Maheshwari, Shubha Maheshwari, Deshbhushan Kulbhushan Sharma, Vinita Jaju, Manoj Rameshwar Sinha, Anil Bajpai and Manjulika Bajpai.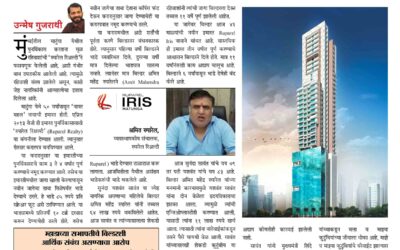 शेकडो भाडेकरूंचे रखडवले कोट्यवधी रुपये ज्येष्ठ नागरिकांचा आत्महत्येचा इशारा उन्मेष गुजराथी स्प्राऊट्स Exclusive मुंबईतील माटुंगा येथील पुनर्विकास करताना मूळ रहिवाशांची 'रुपारेल रिअल्टी'ने फसवणूक केलेली आहे, अशी गंभीर बाब उघडकीस आलेली आहे. त्यामुळे रहिवाशी संतप्त...