Rs 350 crore land scam of Navabharat
Illegal sale of flats located on the plot leased out by CIDCO
Unmesh Gujarathi
Sprouts Exclusive
Besides the circulation fraud, the "Navabharat" has earned crores of rupees by committing land fraud. This startling information has been brought to the fore through RTI by the Special Investigation Team (SIT) of the Sprouts before the readers.
The owners of newspapers earn crores of rupees due to the hard work of journalists, who themselves cannot afford to buy a house of their own. To solve the problem of accommodation shortage of the Journalists, the CIDCO initiated steps and allotted a plot of land measuring 4,000 square meters on November 01, 2002, to the management of Navabharat.
The land was given on a 60 years lease at a very nominal rate. It was decided that out of this land, the Navabharat would set up its office on 1800 square meters. The houses were to be constructed on 2200 square meters for Navabharat employees and journalists.
However, in collusion with CIDCO officials, the Navabharat passed on this land to a big developer from Navi Mumbai who constructed a building which was named " Shiv Triveni Galleria Coop Housing Society".
The builder constructed a two-story building on 1800 square meters of land for the Navabharat office. He constructed a 7-story tower on the remaining 2200 square meters. 79 flats, 23 commercial shops, and 13 offices were part of the complex. But not even a single flat was allotted to the journalist.
This property scam is worth over Rs 350 crore and Navbharat management, developers, and CIDCO top officials are involved in this mega scam, the SIT Sprouts has learnt through RTI.
A fine of Rs 87 lakh was imposed by the Mumbai High Court
Navabharat used additional FSI and committed the FSI theft on the plot allotted by CIDCO at a throwaway price. For this offense, the Mumbai High Court imposed a fine of Rs 87 lakh on July 18, 2014, on the Navabhart management. But the management did not pay this fine, the Sprouts SIT has learned.
Illegal printing press
The land allotted to Navabharat is in a residential zone and it is not in the MIDC. Although there is no permission to set up the printing press in a residential zone, the press was set up in violation of rules by Navabharat. A boiler has been attached to the press to keep it cool. Thousands of people reside in the vicinity of the press. In case of the boiler explosion, the lives of thousands of residents could be in danger. Besides, a fire can break out in case of gas leakage or an explosion, which can lead to a bigger disaster.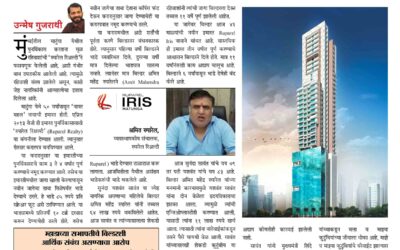 शेकडो भाडेकरूंचे रखडवले कोट्यवधी रुपये ज्येष्ठ नागरिकांचा आत्महत्येचा इशारा उन्मेष गुजराथी स्प्राऊट्स Exclusive मुंबईतील माटुंगा येथील पुनर्विकास करताना मूळ रहिवाशांची 'रुपारेल रिअल्टी'ने फसवणूक केलेली आहे, अशी गंभीर बाब उघडकीस आलेली आहे. त्यामुळे रहिवाशी संतप्त...