Request to remove Dharavi's redevelopment work from Adani
A PIL will be submitted to request the removal of the Dharavi redevelopment work from Adani
Unmesh Gujarathi 
Sprouts Exclusive
Due to Adani's lack of financial qualifications, a request will be made on behalf of the 'Sprouts' team that the slum redevelopment contract of the 'Dharavi' should be withdrawn from them. A Public Interest Litigation (PIL) will soon be filed in the Mumbai High Court on behalf of 'Sprouts' for this demand. The state government will also be made a party in this petition.
Gautam Adani, the world's third-largest businessman, has been accused by a reliable American financial research company. This report proves that this company will soon be in trouble. In such a situation, Adani Group is found not eligible to redevelop Dharavi. Therefore, for the benefit of lakhs of local families here, it is necessary to immediately withdraw this contract from the Adani group. A demand will be made on behalf of 'Sprouts' that this responsibility should be entrusted to a reliable company like Tata instead of Adani.
What is the matter?
Dharavi is the largest slum in India. There are more than 60 thousand huts in this slum. The population here is more than 1 million. The redevelopment of this slum was stalled for the last 18 years. Dharavi Redevelopment Project (DRP) had invited tenders to promote it. In this, 'DLF' group had placed a bid of Rs. 2025 crores. But this group was disqualified. And eventually, the Adani Group, which placed the lowest bid, won the bid and was awarded the redevelopment contract.
These contracts were under the jurisdiction of the state government. But it is well known that Prime Minister Narendra Modi himself gave the order that Adani should get this job. Tendering, and bidding were just a farce. What is special is that NCP leader Sharad Pawar, Shiv Sena (Thackeray group) party chief and former chief minister Uddhav Thackeray, and MNS leader Raj Thackeray have also shown Adani's favour. Adani was thus able to secure this contract.
'Sprouts' had also warned
On 31st October 2021, 'Sprouts', a reliable English daily in Mumbai, had a special report on Adani Group ( ADANI'S FINANCIAL MISADVENTURE, Adani to fall back upon NaMo) released. A simple account of how Adani siphoned off public money in public sector companies like SBI Bank, and LIC and how the Modi government at the center bent laws were presented, but this was deliberately ignored.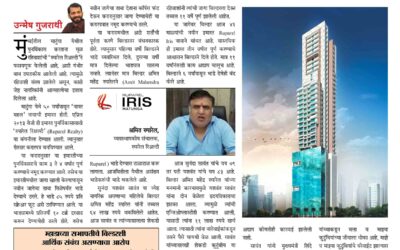 शेकडो भाडेकरूंचे रखडवले कोट्यवधी रुपये ज्येष्ठ नागरिकांचा आत्महत्येचा इशारा उन्मेष गुजराथी स्प्राऊट्स Exclusive मुंबईतील माटुंगा येथील पुनर्विकास करताना मूळ रहिवाशांची 'रुपारेल रिअल्टी'ने फसवणूक केलेली आहे, अशी गंभीर बाब उघडकीस आलेली आहे. त्यामुळे रहिवाशी संतप्त...