Pope Francis turns Mysuru Bishop William into Father !
Sunitha's notice to Sprouts falls apart – Courtesy Yajmanuru William !
Unmesh Gujarathi
sproutsnews.com
Sprouts readers will recall that yesterday we carried an International Exclusive Shocker on Pope Francis blessing a Bishop's illegal wedding with a Mother of two. But the same mother Sunitha had issued notice of 'no connection' whatever to Sprouts.
The legal notice by Sunitha William and her 'poor' lawyer P. T. Ponnappa of Viju Associates has fallen flat on their own faces since her dear 'Yajmanuru' (husband in English )  William's own 6 confidants have bestowed the title of William's beloved and Pope blessed Wife on her!  The legal notice itself has become illegal because it contradicts the six convenors and Yajmanuru William by stating that Sunitha and her children have no connection with Bishop William. This clearly shows that the Sprouts article on 'Willy Rally' forced Sunitha to take a U-turn, realising that William and her game of hide and seek were over and that it was best to come clean or go to jail if Sprouts and the activists meant business.
Sprouts SIT sources in Mysuru further confirmed that it is Sprouts' exclusive expose on 2.2.23 as well as earlier too about the mistress/wife dual status allegation, the naming of the illegitimate son's De Paul International Residential School, high fees unaffordable by an unemployed divorcee, and finally the threat to approach IT, ED, and De Paul that forced Sunitha to issue an ultimatum to beloved Yajmanuru.
The sources which are within the close friends circle of William and Sunitha disclosed that the fear of losing his only 'heir to the millions and throne' forced a Father's pierced heart to now openly declare for the first time ever – 'A Holy and God Fearing person's love and union with his beloved,  the secret Pope blessed marriage in Rome, the footing of the huge school fees and finally a heart-rending appeal to all media to desist from calling his wife a Mistress and son as Illegitimate!
The poor, fully cornered 'Yajmanuru' and his firefighting team is learnt to have burnt  midnight oil to issue a clarification (press release of 3.2.23) within hours of Sprouts publishing the article on 2.2.23 thus averting Sunitha's threat of a second divorce in her life and a 'Father' losing his 'Only  Beloved Son'.
William probably feels that if the Laity (common Catholics) in Mysuru in lakhs or the majority of them accept and want him back as Bishop even though his illegal acts of bigamous offenses (flouting Canon, Civil and Criminal laws) coupled with admirable support of his family of wife, one son as well as Sunitha's first husband's daughter with the best education, 10 Crore palace, car, etc are blessed by Pope Francis, then why should the minority few (37) priests, Justice Saldhana, Mumbai, Pune, Bangalore, Baroda, Vasai and Mysuru activists of Association of Concerned Catholics, Sprouts and Church Militant be conservative?
Courtesy the wisdom of the community of six wise men, women convenors, here below is their 'vision' for the 'Holy Family' –
William's dream is that the Pope Francis blessed secret Rome wedding be celebrated publicly and worldwide in the grandest manner (as he has tonnes of church money to afford this) and that all humanity should unite with the liberal Pope, Cardinal Gracias, and Mysuru laity. Crying hoarse as conservatives is passe as the world order and times are changing.
Despite Justice Michael Saldhana's letter to the Mysuru Police Commissioner to ban the Rally, Willy is hell-bent on his public wedding approval plans even if the 'party spoilsport' Saldhana is serious about his no-nonsense business as usual which William has got a taste of with his kickout.
Sprouts today, just hours before putting out this article, received shocking audio from a source that recorded a Hindu lady teacher's protest about being forced to attend the rally even though she was against William and not even a catholic. A person is heard threatening the teacher in a subtle manner by saying William is still the President of the school management and to be obedient! This seems to be a desperate William last minute move to increase the Rally numbers at any and all costs knowing there is little sympathy for him. The attempt proves the 'widespread support'
for William !
So Sunitha and William's next invite-  Let the Celebrations begin on 5th Feb or should it have been 14th Feb – Valentine's Wili – Suni  Lovi Day… !   Since the sponsorer Willy the Wily fox has lots of money. The party may begin on 5th and end on Valentine's day on 14th !
Husband of 5, Father of 2, Murderer of 4, Kidnapper of 1, Looter of Crores, Saviour of Mother Sunitha and Destroyer of Poor Father Antony's family life,  Bishop William's final prayers through the G-6 Convenors on 5th February Rally can be –
God bless and save the King or rather His Holy Highness…  The Pope.   Long live the liberal hope  !!
The Nuncio, Administrator, and Vicar General of Mysore Diocese, four (M.B. Suresh, Premanand D'melo, Emily, and John W. D'Douza) of the six signatories of the handouts, were sent a questionnaire to elicit their opinions, but none of them responded till the time of going to press, perhaps revealing in a way their nervousness about the questions asked of them.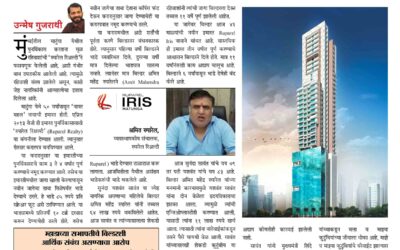 शेकडो भाडेकरूंचे रखडवले कोट्यवधी रुपये ज्येष्ठ नागरिकांचा आत्महत्येचा इशारा उन्मेष गुजराथी स्प्राऊट्स Exclusive मुंबईतील माटुंगा येथील पुनर्विकास करताना मूळ रहिवाशांची 'रुपारेल रिअल्टी'ने फसवणूक केलेली आहे, अशी गंभीर बाब उघडकीस आलेली आहे. त्यामुळे रहिवाशी संतप्त...