Nawab's heir to approach SC against cheater builder
Unmesh Gujarathi
Sprouts Exclusive
Dilip Thacker obtained an Rs. 50 crore loan based on forged documents related to the Collector's land at Mahabaleshwar in Satara.
The Nizam's descendant Barkat Ali Khan's heirs have decided to approach the supreme court to get his grievances redressed against Dilip Thacker, a cheater who had obtained a loan of Rs 50 crores from Shapoorji Pallonji Finance Pvt Ltd based on forged documents.
The fraudster Thacker, attempted to encroach upon a 99-year lease on a Mahabaleshwar hill station bungalow which was originally owned by the Nizam of Hyderabad and is now valued at over Rs. 250 crores. With the assistance of forged documents, Thacker obtained an Rs. 50 crore loan from Shapoorji Pallonji Finance Pvt Ltd. Barkat Ali Khan, the descendant of the Nizam, was the rightful owner of the property and he took the matter to court. After a bold intervention by the Satara Collector, Ruchesh Jaywanshi, who sealed the bungalow with police assistance, the dispute is now in the Supreme Court, embroiled in a legal controversy.
It may be known that Dilip Thacker assigned local corporator Kumar Gorakhnath Shinde as the custodian of the bungalow in dispute. Shinde's wife is the Mayor of the Mahabaleshwar Nagar Parishad, and he himself has a lengthy criminal record with numerous serious offenses.
In light of these facts, it is particularly concerning that such an individual was employed by Thacker to oversee the property. Furthermore, Shinde has allegedly seized control of other bungalows using his influence, prompting Nawab Mir Barkat Ali Khan Bahadur to petition Deputy Chief Minister and Home Minister Devendra Fadnavis for a thorough investigation into Shinde's activities.
It was Satara Collector Ruchesh Jaivanshi who took decisive action against Shinde. The local corporator was staying illegally at the Woodlawns Bungalow accompanied by his wife. Tehsildar Sushma Chowdhary, with police support, effectively completed the mission of takeover and sealing the property, despite Shinde's attempted retaliatory measures. In the end, his efforts were unsuccessful, as Jaivanshi's intervention won out.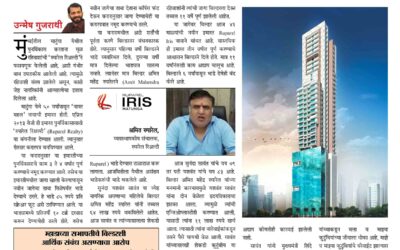 शेकडो भाडेकरूंचे रखडवले कोट्यवधी रुपये ज्येष्ठ नागरिकांचा आत्महत्येचा इशारा उन्मेष गुजराथी स्प्राऊट्स Exclusive मुंबईतील माटुंगा येथील पुनर्विकास करताना मूळ रहिवाशांची 'रुपारेल रिअल्टी'ने फसवणूक केलेली आहे, अशी गंभीर बाब उघडकीस आलेली आहे. त्यामुळे रहिवाशी संतप्त...