Mumbai-based Shell Cos under EOW scanner
Anil Singhvi, prime accused in EoW complaint
UNMESH GUJARATHI
Mahesh (Bala) Vengurlekar who is proactively pursuing economic frauds perpetrated by a host of 15 shell companies allegedly under the stewardship of Anil Chandanmal Singhvi mentioned that the latter's office premise was housed in Maker Towers, Nariman Point and its CGST jurisdiction fell under the Mumbai South Commissionerate.
It may be recalled that Sprouts carried an in depth report about a recent complaint to the Economic Offences Wing of the Mumbai Crime Branch that sought action against Anil Chandanmal Singhvi who holds senior management level portfolios including that of director and in some instances secretary.
The complainant alleged that Singhvi is running a host of shell companies that serve the purpose of money laundering and fraudulent bank transactions.
The complainant Vengurlekar has specified that Singhvi is the secretary of the south Mumbai's Society besides holding directorial positions in 12 other companies. His allegation further states, "All these companies are shell companies that are inactive and conduct transactions only on paper. There are no actual transactions taking place."
His narrative in the complaint also states, "The accounts of these companies are used purely for money laundering purposes. Besides, the companies are being run in order to transfer huge amounts of money through their respective bank accounts."
Complainant Vengurlekar further mentioned that Singhvi is misusing his place, title and position as director of these shell companies. "His source of income is thereby hidden. Furthermore, the transactions these companies conduct are not only suspicious in nature but also illegal. These shell companies are being used to convert black money into white."
Stating that Singhvi carries out all these activities behind the curtain, Vengurlekar has sought to lodge a full-fledged First Information Report (FIR) pertaining to the matter. He also cited that these activities amount to a huge loss of revenue to the Indian government.
The list of companies that Vengurlekar has mentioned in the shell category include, Shree Digvijay Cement Co ltd, Pathfinder Advisors Pvt. Ltd, IIAS Research Foundation, Hindustan Construction company Ltd, Subex Ltd, ICAN Investments Advisory Services India Ltd, Anagha Advisors LLP, Fair Deal Constructions LLP, Assets Care & Reconstruction Enterprise Ltd, Kidderpore Holdings Ltd, and Foundation for Liberal and Management Education.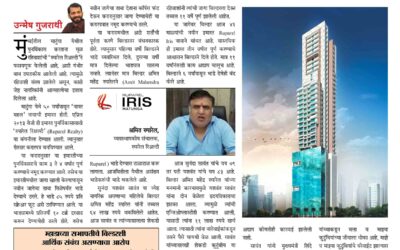 शेकडो भाडेकरूंचे रखडवले कोट्यवधी रुपये ज्येष्ठ नागरिकांचा आत्महत्येचा इशारा उन्मेष गुजराथी स्प्राऊट्स Exclusive मुंबईतील माटुंगा येथील पुनर्विकास करताना मूळ रहिवाशांची 'रुपारेल रिअल्टी'ने फसवणूक केलेली आहे, अशी गंभीर बाब उघडकीस आलेली आहे. त्यामुळे रहिवाशी संतप्त...