Is 'Loksatta' Editor Girish Kuber above law?
Unmesh Gujarathi
Sprouts Exclusive
www.sproutsnews.com
A huge Controversy over a book on Chhatrapati Sambhaji Maharaj has broken out following a demand for legal action against Girish Kuber who has hurt the sentiments of millions of people with his baseless allegation against the legendary historical figure. SPROUTS is the first newspaper to take up this burning issue to uphold the "asmita" of Maharashtra and its people.
Chhatrapati Shivaji Maharaj is rightly considered the "Aaradhya daivat" (presiding deity) of Maharashtra. Next in importance is Chhatrapati Sambhaji Maharaj who occupies a special place in the hearts of all patriotic Indians in general and Maharashtrians in particular. All politicians swear their loyalty to Chhatrapati Sambhaji Maharaj. In this background, one would expect the people of Maharashtra to protest against anyone insulting the sacred memory of Chhatrapati Sambhaji Maharaj.
However, shockingly this is not the case. Girish Kuber, the controversial editor of "Loksatta", a Marathi daily belonging to the Indian Express Group, has insulted Chhatrapati Sambhaji Maharaj like no one else. Yet, no action has been taken against him so far by the state govt.
In an exclusive interview with SPROUTS on Thursday, S. Balakrishnan, ex-senior journalist of The Times of India Group and now a noted criminal advocate of Mumbai, said Kuber wrote a book titled "The Renaissance State: The Unwritten Story of the Making of Maharashtra'' in which on page no. 76 Kuber has written that "Finally Sambhaji put an end to the succession issue by killing Soyarabai along with those loyal to her…"! Soyarabai was none other than the mother of Chhatrapati Sambhaji Maharaj.
"Kuber has not adduced even an iota of proof for substantiating his serious allegation that Chhatrapati Sambhaji Maharaj murdered his own mother. This wild and highly irresponsible allegation has deeply hurt the sentiments of millions of people. He has cleared violated, among others, IPC Sections 153, 153-A, 153-B, and other relevant sections. All these are cognizable offenses and the police are duty-bound to register FIR in this regard,'' Balakrishnan told Sprouts.
Balakrishnan filed a written complaint dated May 26, 2021, to Chembur Police Station when the MVA govt was in power. Despite several representations to senior politicians of the then govt no one wanted to intervene in the matter since they did not want to alienate a senior journalist.
Now Sambhaji Bhide, noted activist and staunch follower of Chhatrapati Sambhaji Maharaj is seized of the matter. "If this also does not result in an FIR, I will move the courts and have an FIR registered in the matter. In that case, it will be a matter of deep shame that in Maharashtra one has to approach the courts to get an FIR registered against a person who grossly insulted a stalwart and iconic figure like Chhatrapati Sambhaji Maharaj," Balakrishnan added.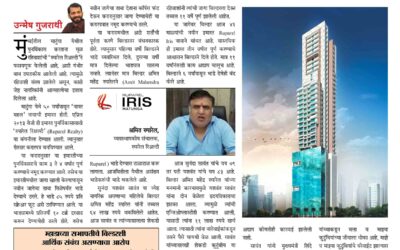 शेकडो भाडेकरूंचे रखडवले कोट्यवधी रुपये ज्येष्ठ नागरिकांचा आत्महत्येचा इशारा उन्मेष गुजराथी स्प्राऊट्स Exclusive मुंबईतील माटुंगा येथील पुनर्विकास करताना मूळ रहिवाशांची 'रुपारेल रिअल्टी'ने फसवणूक केलेली आहे, अशी गंभीर बाब उघडकीस आलेली आहे. त्यामुळे रहिवाशी संतप्त...