Is Father Vincent a victim of the gay gang in Pune, Mumbai Diocese?
The Church functionaries are being accused of homosexuality
Unmesh Gujarathi
Sprouts Exclusive
Fr. Vincent Pereira of Pune was arrested and later released on bail by the Pune Sessions court in a case of child abuse registered under POCSO against him. Bishop Thomas Dabre and Archbishop Oswald Gracias are also co-accused in this case by Kondhwa police station.
Fr. Pereira is accused of abusing a minor child at the child's home at Hadapsar in Pune.
The Sprouts Special Investigation Team ( SIT ) has learnt from reliable sources that only a thorough probe by State CID or CBI would reveal whether Fr. Vincent Pereira himself is a victim of sexual abuse by other homosexuals in the higher positions at Mumbai and Pune Dioceses including Archbishop Oswald Gracias and Bishop Thomas Dabre.
The above suspicion gains ground since Archbishop Oswald and Bishop Dabre have been shielding and aiding Homosexual predators like Fr. Lawrance Johnson ( undergoing life imprisonment for raping a minor ) of the Mumbai Diocese and Fr Pereira who has been booked in two POCSO cases in Pune for sexually abusing three minors for the past 10 – 15 years
The Sprouts SIT is in possession of several documents that prove Archbishop Oswald and Bishop Dabre have been dealing with Fr. Vincent's abuses since 2013 and yet silent to date.
Oswald and Dabre were sent nearly half a dozen emails and letters by two Pune-based activists pointing out that they had audio tapes of the Solapur School watchman who was abused by Pereira, by threatening him that his two daughters studying in the same school will be failed in the annual examination.
Sprouts SIT also has oral evidence of a witness who has stated that Vincent himself admitted in private that he and Lawrance were themselves victims of sexual abuse by Oswald and Dabre. They blackmailed Vincent and Lawrance saying that they would be protected by the Vatican and would get the best legal services at Church's expense.
However, Sprouts SIT feels that only a high-level State CID or CBI probe will unmask this gang of homosexuals ( Bishop Dabre, Archbishop Gracias, and their aides ) in the Pune and Mumbai Dioceses.
The call records of this homosexual gang and their close aides in the last few years may unfold this mind-boggling sexual scam in the name of religion that has ruined the lives of innocent and unwary children and adults alike for the last 20 years.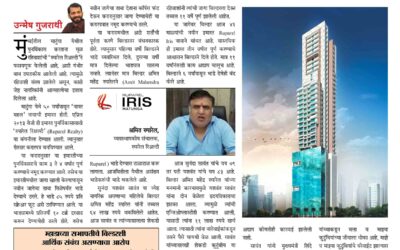 शेकडो भाडेकरूंचे रखडवले कोट्यवधी रुपये ज्येष्ठ नागरिकांचा आत्महत्येचा इशारा उन्मेष गुजराथी स्प्राऊट्स Exclusive मुंबईतील माटुंगा येथील पुनर्विकास करताना मूळ रहिवाशांची 'रुपारेल रिअल्टी'ने फसवणूक केलेली आहे, अशी गंभीर बाब उघडकीस आलेली आहे. त्यामुळे रहिवाशी संतप्त...