Great Graci(as)ous Magic on Police
Mr. India Cardinal's spell on Police
The Investigating Officer of FIR no 985 / 22 of Kondhwa police station in Spl Sessions Case no 965 of 2022 – Shri Sanjay Mogle has done the unimaginable but predictable. 
In his Chargesheet filed in the Pune Sessions Court after 60 days of investigation, he finds no evidence against accused Archbishop Oswald Gracias and Bishop Thomas Dabre. (The proceedings / roznama seen online states this astonishing finding)  The Sprouts SIT team following the case closely like no other Newspaper or news portal came across shocking lapses in the probe and here are its questions to Pune police and Investigation Officer Sanjay Mogle :-
Q.1. Was Cardinal Gracias briefed by Bishop Dabre in 2013 about the Solapur sex scandal of the Dalit peon who was forced as a sex slave of school principal Vincent at a meeting where even the main accused Vincent himself was present?  ( Evidence – email of Vincent to the Vatican and copy with Sprouts )
Q 2.  Was Oswald sent emails and letters in 2018/19 by activists – Bhapkar and Lobo about the accused Vincent and Dabre's roles in the 2018 sex scam in which the accused Vincent raped/sodomized 3 of his school students?  (Evidence-Sprouts has copies of emails and letters)
Q-3. Was Cardinal Gracias informed about the 2022 sex scam of Vincent and did nothing ? ( Evidence – Sprouts has copies of mail, and call record of the victim's father proving Gracias was in the know which he denied to the media).
Q.4. Has Cardinal Gracias nothing to do with Pune Diocese and any other Diocese in India? Is his jurisdiction limited to Mumbai as he claims?  (Evidence-Sprouts has an audio tape and transcript of Oswald – Mysore Bishop William's conversation in which the Cardinal clearly admits about helping William of Mysore Diocese and Franco of Jalandhar Diocese in their respective sex scams).  Thus Cardinal Gracias who admits that he can interfere in far away Mysore and Jalandhar Dioceses but denies he cannot in nearby Pune convinces Investigating Officer Mogle.
Q.5. Has the Cardinal no role in the affairs of other Dioceses and Churches in India?  (  Evidence 1-. Gracias is seen in a video clapping and cheering Dabre illegally looting an undisclosed cheque amount and plush 17 lakhs Honda City car as gifts on Dabre's golden jubilee of priesthood. That Garcias was a prime witness to this loot is Dabre surrendering the car back to the Church after a complaint to Pune Charity Commissioner. (Video evidence of cheerleader Gracias at the self-glorifying function of public funds looter Dabre available with Sprouts)Evidence two –  Cardinal Gracias is an advisor to the Pope on the governance of the Universal Church since 2020 and acknowledges a congratulatory mail to him on this appointment to activist Lobo of Pune. Does not advice of good governance of  Pune Churches come in the jurisdiction of the Universal Church? ( Sprouts has copies of emails) 
Q.6. Will Cardinal who was amongst the four main organizers deny his Feb 2022 speech contents at the first major Vatican conference on child abuse and reported in all leading International media this important quote –  "No Bishop may say to himself, this problem of abuse does not concern me…. We are each responsible for the whole Church. We hold accountability and responsibility together". (  copy of Speech in press of Gracias is available on the net and with Sprouts too).
Q.7. If Cardinal Gracias has nothing to do with the Pune Diocese why did he not say this to accused Vincent's numerous emails to him on his appeals to Rome in respect of his sex scams and why did he help Vincent with a counselor from Mumbai Diocese as recent as after the 2022 sex scam? (Copies of emails available with Sprouts). Sprouts learns that Mogle was given all the above evidence available with Sprouts.
 But 'all credit' to the (Anil Kapoor starrer) Mr. India like powers of Gracias and Dabre that they make Investigating Officer and Police Inspector (Crime)  of Kondhwa police station,  Sanjay Mogle ( obviously under 'pressure and influence' ) see no evidence against both (Gracias and Dabre) in their complicity and abetment of Vincent's horrible sex scams spanning nearly one decade.
 This is the beginning of the trialer of Mr. India Cardinal's powers to get off the police and Justice system's hook. The accurate and full picture will unveil in the coming weeks when the other FIR of Bund Garden police station takes shape in the form of a charge sheet about 40 days from now. Will Bund Garden police repeat Kondhwa police's 'magic of evidence disappearance' for Gracias and Dabre ? Readers have a guessing game on hand while Sprouts SIT keeps a close watch for the police 'sleight of hand'.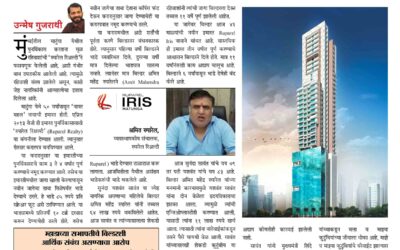 शेकडो भाडेकरूंचे रखडवले कोट्यवधी रुपये ज्येष्ठ नागरिकांचा आत्महत्येचा इशारा उन्मेष गुजराथी स्प्राऊट्स Exclusive मुंबईतील माटुंगा येथील पुनर्विकास करताना मूळ रहिवाशांची 'रुपारेल रिअल्टी'ने फसवणूक केलेली आहे, अशी गंभीर बाब उघडकीस आलेली आहे. त्यामुळे रहिवाशी संतप्त...