Gautam Adani : The King of Fraud
Unmesh Gujarathi
Editorial
It is a simple universal rule that no bank in the world lends you more than the assets you have. But industrialist Gautam Adani was given many times more than the mortgage. All these loans, and investments were given by government banks and institutions like SBI, LIC.
Although Adani's business was big, it was not as traditional as Tata's and Birla's. It was recently erected. Even in the 2014 election, the candidate who was the contender for the post of Prime Minister and the current Prime Minister, Narendra Modi, was campaigning in Adani's own aircraft. Adani Group's logo and name were also on those planes. But his investment in 'Modi' benefited him greatly. After the victory in this election, Adani's business also skyrocketed.
Taking the financial help of corrupt industrialists in elections is a tradition in India from Delhi to the streets. Former Prime Minister Pandit Jawaharlal Nehru and Indira Gandhi were also accused of taking help from industrialists like Birla at that time. But it was not so extreme. However, due to Modi's desire, India's economy has started to crumble.
Modi granted royal shelter to Adani, thus expanding his empire in a short span of time. But unfortunately Sharad Pawar, Uddhav Thackeray, Raj Thackeray also supported him. Congress leader Rahul Gandhi strongly opposed him, but his strength was greatly reduced.
SEBI officials were also swayed by Modi's warning. SEBI (Securities and Exchange Board of India) allowed Adani to go ahead with the IPO even though these officials knew that Adani was a sinking ship. It is well known that a company is heading towards loss. SEBI officials were well aware of this, in such a situation SEBI should have banned these IPOs, FPOs, but the corrupt SEBI officials had entered into a financial tie-up with Adani. That is why SEBI supported Adani's corrupt ways. But due to which millions of investors lost, India's economy itself has suffered cracks.
Adani had a similar company called Paytm. The company was running at a loss, so in fact, SEBI should have rejected Paytm's IPO. But SEBI officials had joined hands with Paytm official Vijay Shekhar Sharma. As a result, lakhs of customers were cheated, this is a major financial scam in the country, so the Sprouts SIT demanded a thorough investigation into the matter.
Not only this but two special reports were also released on November 19 and 20, 2021, exposing the corruption of SEBI officials. The reports Untrustworthy SEBI, gives Paytm free hand, Multy crore scam in Paytm are available on Sprouts' website. But unfortunately, this scandal was also suppressed. Even today, the same SEBI officials are walking around, supporting the bogus Adani.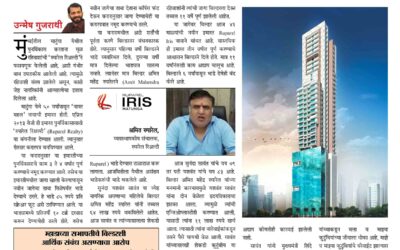 शेकडो भाडेकरूंचे रखडवले कोट्यवधी रुपये ज्येष्ठ नागरिकांचा आत्महत्येचा इशारा उन्मेष गुजराथी स्प्राऊट्स Exclusive मुंबईतील माटुंगा येथील पुनर्विकास करताना मूळ रहिवाशांची 'रुपारेल रिअल्टी'ने फसवणूक केलेली आहे, अशी गंभीर बाब उघडकीस आलेली आहे. त्यामुळे रहिवाशी संतप्त...