ED, IT, EOW launch A probe into to Subex s deal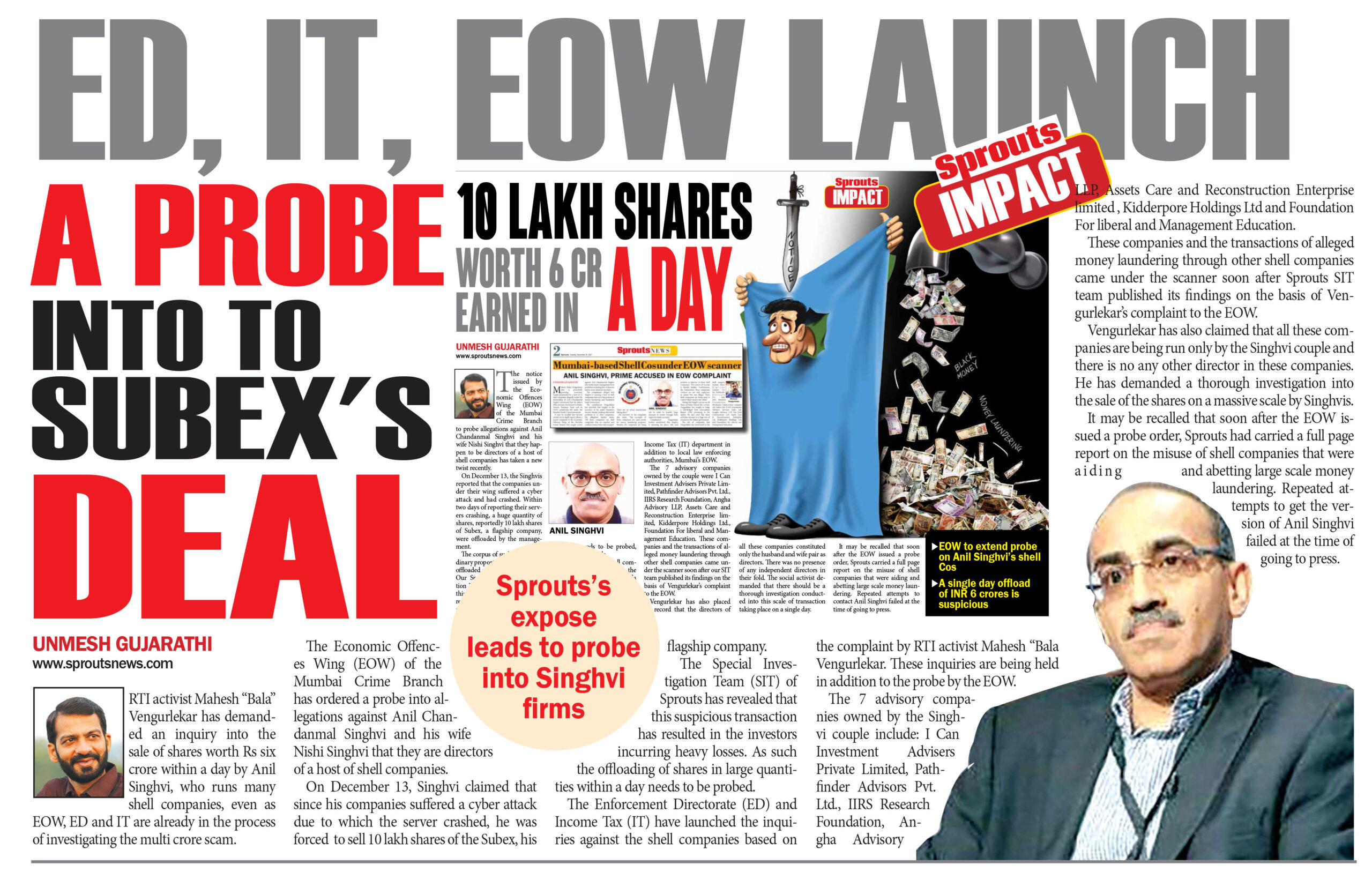 Sprouts's expose leads to probe into Singhvi firms
UNMESH Gujarathi
www.sproutsnews.com
RTI activist Mahesh "Bala" Vengurlekar has demanded an inquiry into the sale of shares worth Rs six crore within a day by Anil Singhvi, who runs many shell companies, even as EOW, ED and IT are already in the process of investigating the multi crore scam.
The Economic Offences Wing (EOW) of the Mumbai Crime Branch has ordered a probe into allegations against Anil Chandanmal Singhvi and his wife Nishi Singhvi that they are directors of a host of shell companies.
On December 13, Singhvi claimed that since his companies suffered a cyber attack due to which the server crashed, he was forced to sell 10 lakh shares of the Subex, his flagship company.
The Special Investigation Team (SIT) of Sprouts has revealed that this suspicious transaction has resulted in the investors incurring heavy losses. As such the offloading of shares in large quantities within a day needs to be probed.
The Enforcement Directorate (ED) and Income Tax (IT) have launched the inquiries against the shell companies based on the complaint by RTI activist Mahesh "Bala Vengurlekar. These inquiries are being held in addition to the probe by the EOW.
The 7 advisory companies owned by the Singhvi couple include: I Can Investment Advisers Private Limited, Pathfinder Advisors Pvt. Ltd., IIRS Research Foundation, Angha Advisory LLP, Assets Care and Reconstruction Enterprise limited , Kidderpore Holdings Ltd and Foundation For liberal and Management Education.
These companies and the transactions of alleged money laundering through other shell companies came under the scanner soon after Sprouts SIT team published its findings on the basis of Vengurlekar's complaint to the EOW.
Vengurlekar has also claimed that all these companies are being run only by the Singhvi couple and there is no any other director in these companies. He has demanded a thorough investigation into the sale of the shares on a massive scale by Singhvis.
It may be recalled that soon after the EOW issued a probe order, Sprouts had carried a full page report on the misuse of shell companies that were aiding and abetting large scale money laundering. Repeated attempts to get the version of Anil Singhvi failed at the time of going to press.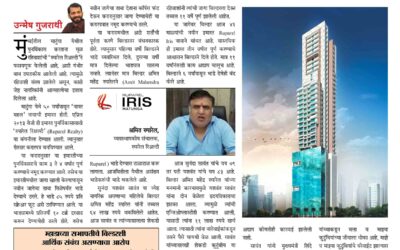 शेकडो भाडेकरूंचे रखडवले कोट्यवधी रुपये ज्येष्ठ नागरिकांचा आत्महत्येचा इशारा उन्मेष गुजराथी स्प्राऊट्स Exclusive मुंबईतील माटुंगा येथील पुनर्विकास करताना मूळ रहिवाशांची 'रुपारेल रिअल्टी'ने फसवणूक केलेली आहे, अशी गंभीर बाब उघडकीस आलेली आहे. त्यामुळे रहिवाशी संतप्त...