'Cardinal' Sins of (Dis)Gracias
Unmesh Gujarathi
Sprouts Exclusive
A Sprouts SIT in-depth investigation has revealed that some top Catholic Police Officers give cover to Cardinal Gracias who in turn cover up crimes of Bishops and priests all over the Country.
The sprouts SIT found truth in the allegations made by Mumbai, Pune and Bangalore activists against Mumbai's Archbishop ( Cardinal ) Oswald Gracias.
Once upon a time leading International news media had even termed and tipped Cardinal Gracias as the next possible Pope to succeed Francis.
Hence our SIT team of journalists spoke to various activists ( including many priests and nuns ) about what would have been next Pope's background.
The SIT came across evidence given by these sources as shocking, unbelievable, and unbecoming of a person who would have been the next Pope.
The audio tape ( copy and transcript with Sprouts ) makes startling revelations about the machinations of the mind ( of Cardinal) that is just impossible for an ordinary person (especially of the Catholic community ) to even imagine that Cardinal Gracias can stoop so low.
Cardinal Gracias is in the audio conversation clearly heard assuring one Bishop William of Mysore of 'managing' the doctors of the reputed St.John's hospital, Bengaluru and media in respect of a paternity test that William is almost being pleaded to undergo by Cardinal Gracias.
Bishop William has been accused of kidnapping, murder, corruption and goondaism that may put the desi gangsters to shame.
Not only Bishop William but even one Bishop Franco Mullakal of Jalandhar who is accused of rape by a Kerala nun is referred to in the audio conversation and Cardinal Gracias boasts of how his advice went unheeded only to land Franco in trouble.
Cardinal Gracias aiding and abetting serial sexual predators of minors in the Pune case – Fr. Vincent Pereira and his cover-up boss – Bishop Thomas Dabre are already learnt to be under the lens of Pune police.
However, the Sprouts SIT team feels only a CBI probe can reveal or rather unmask the real and true face of Cardinal Gracias because of the All India span of the crimes.
The shocking charges are now in the full public domain through innumerable press reports in local and international media.
A highly respected former High Court Judge – Justice Michael Saldhana has written several letters and issued legal notices to the Nuncio in Delhi but Cardinal Gracias's influence in Rome ( being only one among 6 advisors to Pope ) seems to do the trick of keeping him away from any action.
But if chief minister Eknath Shinde, home minister Devendra Fadanavis, and Pune police commissioner Amitabh Gupta take the Pune serial sexual cases seriously, many skeletons are sure to tumble out of the pan India cupboards that Cardinal Gracias has been so successful in keeping closely guarded for decades.
Will the minor victims ever get justice in quick time is a big question mark?
Sprouts SIT will continue to expose this religious Mafia which seems to have the protection of top Catholic serving and retired police officers who are doing a great disservice to not only their profession but to the hapless minor victims and their families crying for justice.
Read more:
'Cardinal' Sins of (Dis)Gracias
https://bit.ly/3ADeuhC
Cops v/s Cops
https://bit.ly/3AA1zwD
Pune Bishop Thomas Dabre wanted as accused for last 4 years
shorturl.at/bpDE6
पुण्यातील बिशपची संत तुकारामांवरील पीएचडी बोगस
Bishop obtains bogus Ph.D. based on Sant Tukaram
shorturl.at/uGHRX
Bishop violates law in presence of Cardinal Oswald
Gracias and Nuncio – Leopoldo Girelli
https://bit.ly/3UQApt9
'Ungracious' alleged Homo-sexual Cardinal Gracias's Disgracious act
https://bit.ly/3sJazvh
Is Father Vincent a victim of the gay gang?
फादर व्हिन्सेंट हा समलैंगिक गँगचा बळी आहे काय ?
https://urlzs.com/DwEsV
पुण्यातील सेक्स स्कॅण्डलमध्ये बिशपचा रोल उघडकीस
Bishop Dabre's dubious role in Vincent sex scam nailed by his own documents
shorturl.at/bjkno
Sex starved demon in Father Vincent Pereira
http://shorturl.at/INY24
लिंगपिसाट फादर पुन्हा मोकाट
Sextortionist Father (priest) again scot-free
https://bit.ly/3Fbm2uR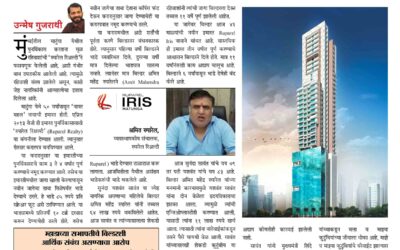 शेकडो भाडेकरूंचे रखडवले कोट्यवधी रुपये ज्येष्ठ नागरिकांचा आत्महत्येचा इशारा उन्मेष गुजराथी स्प्राऊट्स Exclusive मुंबईतील माटुंगा येथील पुनर्विकास करताना मूळ रहिवाशांची 'रुपारेल रिअल्टी'ने फसवणूक केलेली आहे, अशी गंभीर बाब उघडकीस आलेली आहे. त्यामुळे रहिवाशी संतप्त...