Canara Bank writes off Rs 1.29 lakh crore in bad debts
Unmesh Gujarathi
Sprouts Exclusive
The Canara Bank has written off the bad debt worth Rs 1.29 lakh crore given to big businessmen in the last 11 years and on top of it, the bank management has refused to declare the list of bad debtors whose debts have been written off. The Special Investigation Team of 'Sprouts' has obtained this startling information through reliable sources.
The Canara Bank ranks fourth among the Public Sector Undertakings. The Special Investigation Team of Sprouts had earlier expressed doubt that the bank distributed irregular loans in bulk between 2011-2012 and 2021-2022.
Now the RIT information has revealed that the bank has waived the bad debts worth Rs 1,29,088 crore. Heavy interest with a penalty is levied on small loan seekers if they fail to refund the money or default on the EMI payment. But in this case, huge loans have been written off irregularly since the debtors are bigwigs.
The names of the small-time loanees are published in newspapers if they fail to pay the stipulated installments or return the loan amount. But in the case of these big debtors ( who have borrowed Rs. 100 crore and more ), far from making their names public, the bank refuses to give information about them under the RTI. In fact, the bank is duty-bound to give information about all the bad debts under the RTI.
The bank told 'Sprouts' that this information is confidential which could adversely affect the image of the debtors in society and as such the information cannot be given under section 8 (1) (j) of the RTI Act.
As per the Sprouts SIT, the bank has suppressed the information to save its face and it is seeking protection under 8 (1) (j) of the RTI Act. The bank's claim is baseless. As such a thorough inquiry should be conducted into the irregular loan distribution by the bank.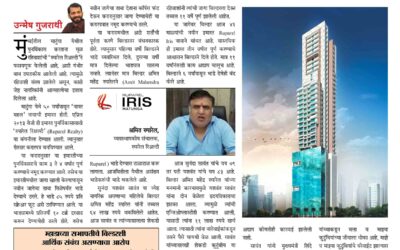 शेकडो भाडेकरूंचे रखडवले कोट्यवधी रुपये ज्येष्ठ नागरिकांचा आत्महत्येचा इशारा उन्मेष गुजराथी स्प्राऊट्स Exclusive मुंबईतील माटुंगा येथील पुनर्विकास करताना मूळ रहिवाशांची 'रुपारेल रिअल्टी'ने फसवणूक केलेली आहे, अशी गंभीर बाब उघडकीस आलेली आहे. त्यामुळे रहिवाशी संतप्त...