Bishop Thomas Dabre's dubious role in Vincent sex scam nailed by his own documents
Unmesh Gujarathi
Sprouts Exclusive
Controversial, sexual predator, paedophile and sextortionist father Vincent Pereira, a homosexual, is currently out on interim bail in his second POCSO case in respect of a third minor boy victim.
Father Vincent Pereira has so far alleged to have sexually abused more than a dozen children.
However, only 2 FIRs were registered against him in just two of these cases with respect to 3 minors (Obviously numerous other cases were 'covered up from time to time by Bishop Thomas Dabre and Archbishop Oswald Gracias).
The Sprouts SIT has learnt that the parents of the 3 school children who were victims of Vincent Pereira's atrocities as well as three adult victims had complained repeatedly to Bishop Thomas Dabre from time to time. But each time Bishop Dabre not only ignored the grave complaints but even threatened the parents and adult victims.
Fr Vincent Pereira who is a bachelor as all Catholic religious priests are is proved to have been protected by Bishop Thomas Dabre as seen from the documents obtained by 'Sprouts'.
That Dabre gave him full support and cooperation every time in his numerous sexual escapades is learnt to be for the sexual favours Dabre received from Vincent in return and there seems to be no plausible explanation for Dabre ignoring such repeated grave sexual crimes and especially against minors.
Sprouts SIT has learnt that Dabre, despite being fully aware of Vincent's sexual crimes ( Solapur's St Joseph's School Dalit watchman case ) appointed him as Principal of St Patrick's High school and Junior College in Pune and which is located within the Bishop's house (Dabre official residence ) and Cathedral compound.
In the 2018 case involving 2 minors, Fr Vincent was in Pune's Yerwada Jail for 1.5 years with his bail application being rejected twice by the Pune District Court. However, he obtained bail from Mumbai High Court where the victims were never given the opportunity to give their say to oppose the bail as per Supreme Court guidelines.
Sprouts SIT learnt that Bishop Thomas Dabre is also named as co-accused in this case but surprisingly not arrested to date despite documentary evidence proving that he filed a written complaint only on 11th April 22 through his Junior priest despite coming to know of the offence on December 21/January 22 and only after learning of possible police raids and action on 4th and 5th of April 22 on a complaint by parents, thus clearly proving that the complaint of 11th April 22 was, in fact, a cover-up and clever afterthought exercise to escape certain prosecution.
The Sprouts SIT has also learnt that Pereira is a proven homosexual is now in no doubt and it is further reliably learnt that Dabre is under investigation whether Pereira had a similar homosexual relationship with Thomas Dabre and therefore the main cause and reason for Dabre supporting, harbouring Vincent.
Sprouts SIT learns from reliable sources that Dabre should ordinarily have recommended defrocking ( sacking ) Vincent from his priestly job in 2013 itself when the Solapur watchman's complaint was received and again in 2018 when first FIR was filed in the case of two minor students.
However, Sprouts SIT learns that no such action of defrocking ( sacking ) has been initiated even to date despite two grave FIRs being registered against Vincent thus exposing Dabre's dubious and suspicious role in the sordid Vincent sex scam.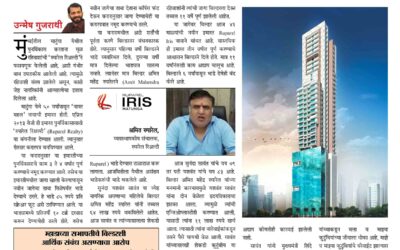 शेकडो भाडेकरूंचे रखडवले कोट्यवधी रुपये ज्येष्ठ नागरिकांचा आत्महत्येचा इशारा उन्मेष गुजराथी स्प्राऊट्स Exclusive मुंबईतील माटुंगा येथील पुनर्विकास करताना मूळ रहिवाशांची 'रुपारेल रिअल्टी'ने फसवणूक केलेली आहे, अशी गंभीर बाब उघडकीस आलेली आहे. त्यामुळे रहिवाशी संतप्त...