Bishop obtains bogus Ph.D. based on Sant Tukaram
Unmesh Gujarathi
Sprouts Exclusive
www.sproutsnews.com
Sant Tukaram Maharaj is the most revered Saint of Maharashtra. Current Pune Bishop Thomas Dabre obtained a Ph.D. degree in 1979 from the so-called 'Jnana Deepa University, Pune. However his Ph.D. is bogus, the Special Investigation Team (SIT) of Sprouts has reliably learned.
Basically, as per the norms of the University Grant Commission (UGC), Jnana Deepa University does not fall into the category of a university. It is just a registered educational institute. However the institute skilfully inserted the word 'University' in its title and due to this insertion, this institute has been cheating students and parents for a long.
The Jnana Deepa Institute is not a University and it cannot award any degree including a Ph.D. degree as per the UGC norms. There are many more such educational institutes in Maharashtra that award PhDs in violation of UGC norms. But UGC officials, Maharashtra Governor Bhagat Singh Koshyari, his corrupt Secretary Ulhas Munagekar, and state higher education director
Dr. Dhanraj Mane is keeping quiet over the issue for reasons best known to them.
Bishop Thomas Dabre is a controversial Catholic priest with a serious criminal case registered against him under the stringent POCSO act for heinous sexual crimes against children.
Pune sextortionist Father Vincent Pereira has sexually exploited many minor children till now. He too has been booked under the POSCO twice for sexually abusing three minors. In the recent 2022 case, Cardinal Oswald Gracias and Bishop Thomas Dabre are co-accused.
Bishop Thomas Dabre thus promoted himself with a fake Ph.D. and has been hoodwinking people for a long time, who rather needs to be booked for cheating. The SPROUTS team has learnt that the Pune Police is seeking police custody by opposing his anticipatory bail application since Dabre is wanted but absconding for a shocking period of 4 years in an earlier POCSO Spl. Sessions Case 502 of 18) registered by Wanwadi police station.
Dabre seems to have 'managed' Wanwadi police by remaining absconding for a record 4 years from 2018, despite being such a high-profile newsmaker and being on page 3 of leading newspapers quite regularly.
A list of fake universities awarding bogus Ph.D. degrees has been given here for the information of our valuable readers:
► The Open International
University of complementary medicine, Sri Lanka
► University of America Hawaii and Inox International University
► Commonwealth Vocational University, Tonga
► University of South, America,
► Southwestern American University
► The American University, USA,
► Zorashtriyan University,
► Sorbonne University, France,
► Mahatma Gandhi Global peace Foundation (NGO)
► Empower Social and Education Trust (NGO).
► Nelson Mandela Nobel Award Academy – NGO
► Diplomatic Mission Global Peace – NGO
► Manav Bharti University (MBU) Himachal Pradesh
► Manav Bharti University, Solan
► Vinayaka Missions Singhania.
► Chhatrapati Shahuji Maharaj University from Kanpur
► American Heritage University of Southern California (AHUSC)
► Peace University
► Dadasaheb Phalke Icon Awards Films – NGO
► Trinity World University, UK
► St. Mother Teresa University
► American University of Global Peace
► Jeeva Theological Open University
► World Peace Institute of United Nations
► Global Human Peace University
► Bharat Virtual University for peace and Education
► National global Peace University
► Ballsbridge University
► Shri Dadasaheb Phalke International Award Film Foundation (NGO)
► International Open University of Humanity Health, Science and Peace, USA
► Harshal University
► International Internship University
► British National University of Queen Mary.
► Jordan River University
► Boston Imperial University
► The University of Macaria
► Theophany University
► Dayspring Christan University
► South Western American University
► Global Triumph Virtual University
► Veekramsheela Hindi Vidyapeeth
Read more:
Actor Rajpal Yadav too cheated with a bogus PhD
shorturl.at/dfijT
Distribution of bogus PhDs in presence of PM Modi's brother again
shorturl.at/CDKS1
Governor Koshyari misusing his powers repeatedly
shorturl.at/gHKMR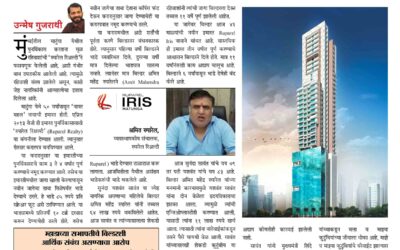 शेकडो भाडेकरूंचे रखडवले कोट्यवधी रुपये ज्येष्ठ नागरिकांचा आत्महत्येचा इशारा उन्मेष गुजराथी स्प्राऊट्स Exclusive मुंबईतील माटुंगा येथील पुनर्विकास करताना मूळ रहिवाशांची 'रुपारेल रिअल्टी'ने फसवणूक केलेली आहे, अशी गंभीर बाब उघडकीस आलेली आहे. त्यामुळे रहिवाशी संतप्त...