Big circulation fraud In Navabharat, Nagpur
Unmesh Gujarathi
Sprouts Exclusive
Navabharat Nagpur is facing a probe from the auditing authorities owing to alleged massive fraud in its circulation figures. The circulation figures saw a sharp 250% rise within a span of six to seven months.
The sharp rise occurred first in the 2013 to 2016 phase after Navabharat, Nagpur switched its auditing authority from the Audit Bureau of Circulations (ABC) to the Office of Registrar of Newspapers in India (RNI). The authorities reported that there was a similarly steep rise in circulation figures for the Navabharat Maharashtra group too.
The glaring discrepancy came to light when in 2018, newsprint purchased stood at Rs. 21.83 crores. Technically, this will only facilitate 258236 copies to be printed. The circulation figures of the newspaper, however, indicated that 755131 copies were being printed.
In addition, the Navabharat Hindi version and Marathi version for Nagpur had run electric bills far below the actual figures that went into the printing of 755131.
The circulation figures that amount to distribution among schools in Nagpur also have raised eyebrows. The circulation figures indicated officially by Navabharat Nagpur for schools stand at 2 lakh with a pricing of Rs. 1 each.
Navabharat claims that the total circulation of the special edition is 315000, out of which 2 lakh gets circulated to the student community in schools. The schools in Nagpur comprise English, Hindi, and Marathi medium.
Our Sprouts Investigation Team (SIT) found the funny part in this claim. Students from English and Marathi medium schools do not read Navabharat in Hindi. Further, the number of Hindi medium schools in Nagpur is close to nil.
SIT also calculated and figured out that in a year, schools were open for only 150 days. In wake of our SIT's findings, the claims made by Navabharat sound ridiculous.
Big circulation fraud In Navabharat, Nagpur
shorturl.at/fIR57
Circulation fraud of Navabharat
नवभारत का सर्कुलेशन स्कैंडल
https://rb.gy/mbe3zs
https://rb.gy/mbe3zs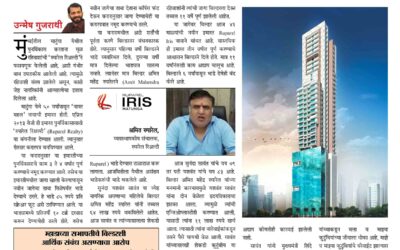 शेकडो भाडेकरूंचे रखडवले कोट्यवधी रुपये ज्येष्ठ नागरिकांचा आत्महत्येचा इशारा उन्मेष गुजराथी स्प्राऊट्स Exclusive मुंबईतील माटुंगा येथील पुनर्विकास करताना मूळ रहिवाशांची 'रुपारेल रिअल्टी'ने फसवणूक केलेली आहे, अशी गंभीर बाब उघडकीस आलेली आहे. त्यामुळे रहिवाशी संतप्त...