Arrogant builder blackmails redevelopment tenants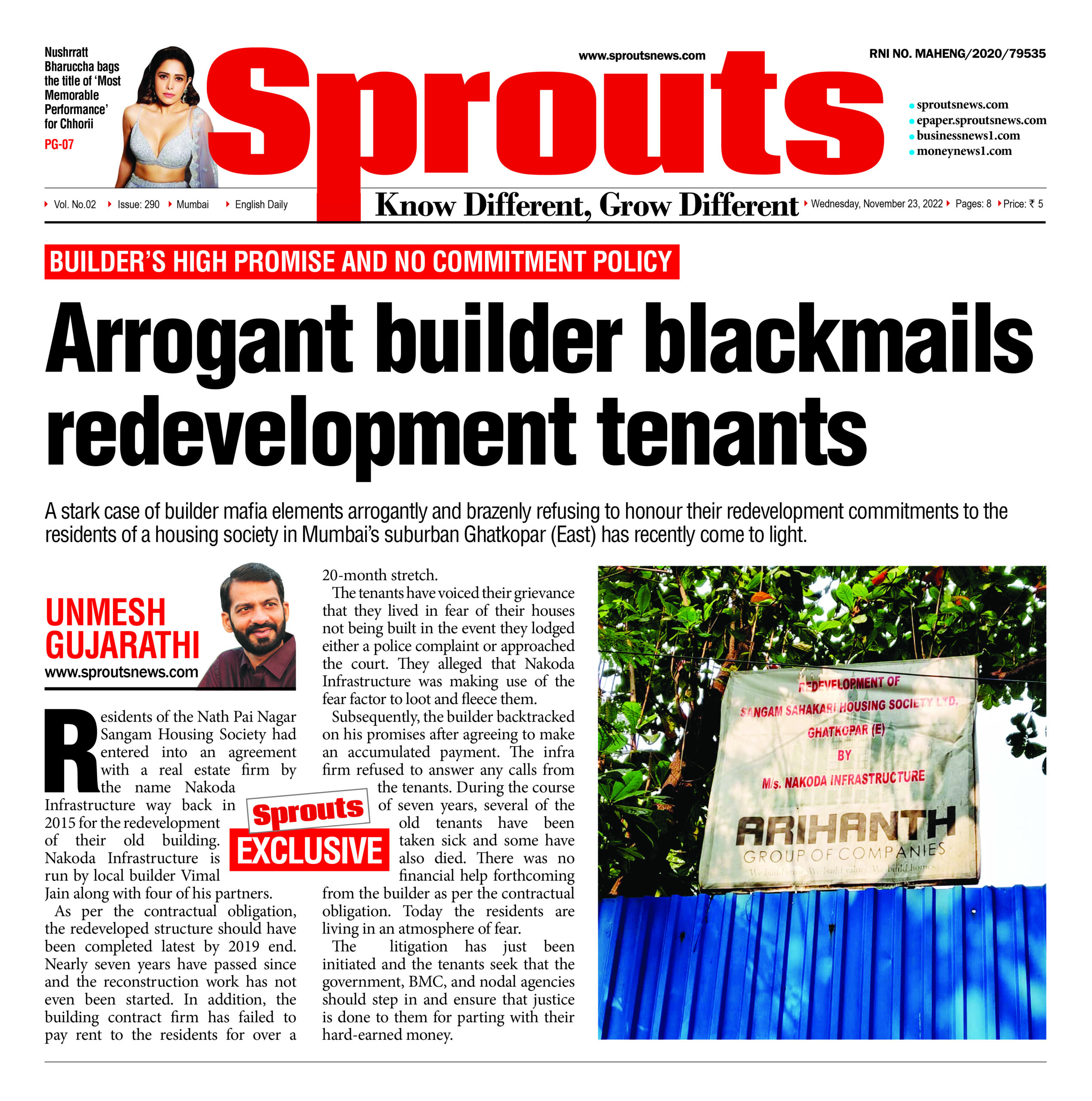 Unmesh Gujarathi
Sprouts Exclusive
A stark case of builder mafia elements arrogantly and brazenly refusing to honour their redevelopment commitments to the residents of a housing society in Mumbai's suburban Ghatkopar (East) has recently come to light.
Residents of the Nath Pai Nagar Sangam Housing Society had entered into an agreement with a real estate firm by the name Nakoda Infrastructure way back in 2015 for the redevelopment of their old building. Nakoda Infrastructure is run by local builder Vimal Jain along with four of his partners.   
As per the contractual obligation, the redeveloped structure should have been completed latest by end of 2019. Nearly seven years have passed since and the reconstruction work has not even been started. In addition, the building contract firm has failed to pay rent to the residents for over a 20-month stretch.
The tenants have voiced their grievance that they lived in fear of their houses not being built in the event they lodged either a police complaint or approached the court. They alleged that Nakoda Infrastructure was making use of the fear factor to loot and fleece them.
Subsequently, the builder backtracked on his promises after agreeing to make an accumulated payment. The infra firm refused to answer any calls from the tenants. During the course of seven years, several of the old tenants have been taken sick and some have also died. There was no financial help forthcoming from the builder as per the contractual obligation. Today the residents are living in an atmosphere of fear.
The litigation has just been initiated and the tenants seek that the government, BMC, and nodal agencies should step in and ensure that justice is done to them for parting with their hard-earned money.
गिरणी कामगारांच्या घरांचा होतोय काळाबाजार   उन्मेष गुजराथी  स्प्राऊट्स Exclusive  मुंबईमध्ये गिरणी कामगारांसाठी आरक्षित असणाऱ्या घरांच्या वाटपामध्ये मोठ्या प्रमाणात काळा बाजार होत आहे. हा काळा बाजार करणाऱ्या काही टोळ्या आहेत. या टोळ्यांतील लुटारूंनी 'गिरणी...