8000 investors duped for Rs 450 crore
A fake virtual currency fraud, none arrested, no FIR
Unmesh Gujarathi
Sprouts Exclusive
Over 8000 investors have been duped over Rs 450 crore with a fake promise of triple-fold money within three months using virtual currency-"Coito" by the Inamdar family in Sangli. Despite this police are allegedly protecting the accused.
In fact, over 18 complaints have been registered in this regard. However the police are apparently shielding the accused, the Special Investigation Team of Sprouts has reliably learnt.
Ibrahim Inamdar, his wife Jasmine Inamdar, and his brother Abdul Inamdar residing at Miraj in Sangli prepared a fake currency "Coito" some three years back. Initially, a promise to triple the money invested, within three months was given to investors and they were given the agreed benefits. However, subsequently, the default began and the investors were not refunded even the amount they invested. With this clandestine affair, the family earned crores of rupees.
There is no record of money invested since it was collected in cash. However, in return, the cheques worth lakhs of rupees were issued to investors in "Coito" currency. However, now these cheques have become outdated and they are being taken back forcibly by the toughies of the Inamdar family.
Although this appears to be a cheating business, it is a serial fraud and the scheme is being run unauthorisedly. Although the police were aware of this serious fraud, they did not take any action against the accused due to their tacit money deal, with the accused.
Till now 5 duped investors from Sangli, 10 investors from Kolhapur and 03 investors from other districts have lodged complaints against this fraud family. But the police have not taken action against the accused and they are moving freely. On the contrary, the complainants are being pressurised to withdraw their complaints.
The investors angry against police apathy had threatened to launch an agitation. In view of the proposed agitation, the Superintendent of Police has directed the Economic Offences Wing to conduct an inquiry and submit the report immediately.
This fraud is being perpetrated since 2019. Several complaints have been lodged. But not a single FIR was registered. This raises a question mark over police functioning.
The accused Inamdar family has pocketed local representatives. That is the reason duped investors wanting to lodge the complaint are being threatened by the local representatives.
Not only this, but the accused Jasmine Inamdar falsely implicates the complainants on charges of molestation, outraging modesty etc (IPC 354,376). The false complaints are promptly lodged against the investors by police, the complainant Latif Mulla told Sprouts.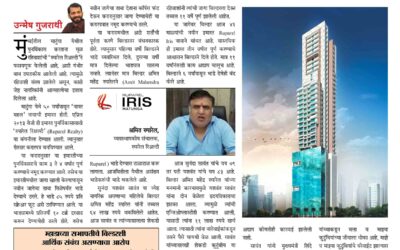 शेकडो भाडेकरूंचे रखडवले कोट्यवधी रुपये ज्येष्ठ नागरिकांचा आत्महत्येचा इशारा उन्मेष गुजराथी स्प्राऊट्स Exclusive मुंबईतील माटुंगा येथील पुनर्विकास करताना मूळ रहिवाशांची 'रुपारेल रिअल्टी'ने फसवणूक केलेली आहे, अशी गंभीर बाब उघडकीस आलेली आहे. त्यामुळे रहिवाशी संतप्त...