2,22,153 illegal constructions on cattle grazing land
No action by Government for the last 11 years
Unmesh Gujarathi
Sprouts Exclusive
Almost all political leaders have encroached upon over 25,000-acre Gairan ( cattle grazing ) land (Gairan land) without permission from the Central Government. The Supreme Court (SC) directed the Maharashtra Government to remove these encroachments. However, the state government did not take any action for the last 11 years.
The SC in 2011 noted that nearly 2.25 lakh people have encroached upon the cattle grazing land in Maharashtra and they should be removed forthwith. However, these encroachments were not removed. On the contrary, the number of encroachments is growing, and the Special Investigation Team (SIT) of Sprouts has learnt reliably.
These are forest lands entrusted to the Revenue Department in 1898 specifically to use for cattle grazing. They fall in the category of forest land even today. Permission of the Union Government is required to use this land. However, the Maharashtra Revenue department has not sought the Centre's permission since April 25, 1980, to use the land.
This land is under the control of only the Government. The land can be obtained on rent depending upon the Government's conditions and rules. The land is non-transferable. However, the Maharashtra Government has thrown all these norms to the wind.
There have been 04,73,247 encroachments on the Gairan land as per the Maharashtra Government records. However, there are chances that this number could be treble. The patches of Gairan land have been encroached upon by local representatives and leaders.
The land encroached upon, today there are concrete jungles in their place with which the local leaders have been minting crores.
The SC had directed the Maharashtra Government to prepare a road map to remove the encroachments and submit it to the court. However, 11 years have passed by. In the meantime, the governments of different parties ruled the state. However, no Government bothered to take action against these encroachments. This is in contempt of the Supreme court by the Maharashtra Government.
"This is an encroachment on cattle grazing (Gairan) land by local representatives and leaders in connivance with officers of Revenue, Urban Development, Rural Development, and Land Records"
Hemant Chhajed,
Social worker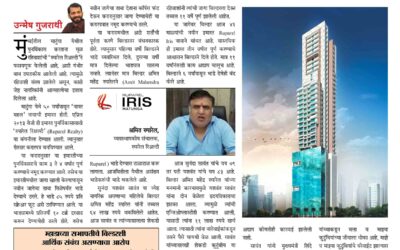 शेकडो भाडेकरूंचे रखडवले कोट्यवधी रुपये ज्येष्ठ नागरिकांचा आत्महत्येचा इशारा उन्मेष गुजराथी स्प्राऊट्स Exclusive मुंबईतील माटुंगा येथील पुनर्विकास करताना मूळ रहिवाशांची 'रुपारेल रिअल्टी'ने फसवणूक केलेली आहे, अशी गंभीर बाब उघडकीस आलेली आहे. त्यामुळे रहिवाशी संतप्त...